Like cheese to a MOUSE
How we helped the world's leading pet food brand extend its leadership in the Indian market from the offline to online space.
Background
Mars Petcare started selling pet food in India in 2004. Being an emerging market, Mars Petcare invested in creating the pet food market in India, starting with Pedigree. This was followed by the launch of Pedigree Professional, Whiskas, Sheba, Chappi, DentaStix, Jumbone, etc. As such, in the Indian market, Mars Petcare was synonymous with pet food.

With the advent of e-commerce, it was crucial to extend its leadership in the online space. Mars Petcare brands first became available on e-commerce in 2014. Seeing the rapid growth of e-commerce over two years – and cognizant of its increasing contribution to overall revenues – Mars Petcare decided to strengthen its e-commerce presence in 2016.
White Cloud Brands came on board to handle the visual merchandising of Mars Petcare on e-commerce sites.
Business Challenge
Being the first-mover in the e-commerce space in India (in the pet care segment), there were no established benchmarks to study and replicate. Additionally, SKU-specific content across the Mars Petcare range (~100 SKUs) was not uniformly available, making the job of writing rich, SEO-friendly content tougher.
Moreover, specific partner sites (Amazon, Flipkart, Snapdeal, Big Basket, Grofers, etc.) had stringent norms of their own, necessitating the creation of multiple versions of images and content.
Most importantly, the visual merchandising strategy had to result in the creation of 'hooks' for different kinds of buyers – loyal buyers, those buying competing brands, those feeding home-cooked food, price-conscious buyers, left-brain/right-brain thinkers, etc.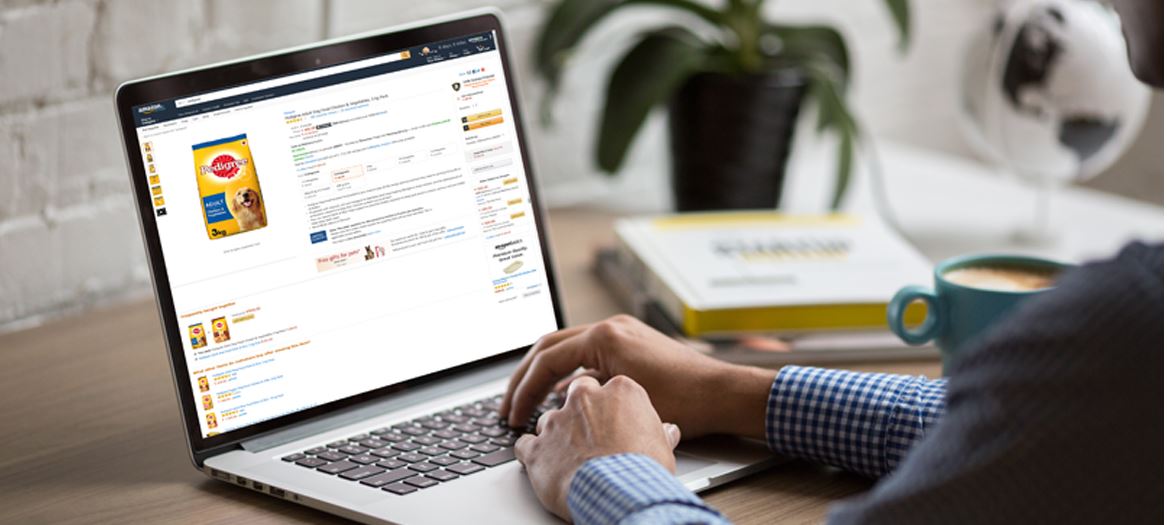 Client Brief
The client's expectation from White Cloud was to

create a 'way forward' document

encapsulating best practices and suggestions, to help Mars Petcare sustain its leadership in the e-commerce space
handle

the entire gamut of e-commerce visual merchandising initiatives

comprising taxonomy (search-optimized, comprehensive product titles), search images (for product search page), pack visualizations, display images and long-form content (for product display page), custom content & imagery (for specific partner properties) and content & imagery (for promotional banners)
drive

greater traffic

to product pages (on e-commerce sites),

conversion

(from home-cooked food to packaged food) and

basket size

(more revenue per buyer)

Approach & Concept
To achieve the client's objectives, we created a 5-point agenda:

display the range comprehensively, including all products, variants & sizes (to establish Mars Petcare's leadership and strength in the market)
provide rich information in text and image form (to enhance the buyer experience)
include detailed features and benefits (to improve product knowledge and brand credibility)
create realistic pack visuals with accurate volume & size impression (to reduce any likelihood of post-purchase dissonance)
write SEO-enabled content (to help buyers find required products more easily)
We began by conducting an in-depth study of pet care & non-pet care brands globally, and created a best practices list. This was a crucial first step as there were no established benchmarks in the Indian pet care segment. These best practices were categorized into ones slated for immediate implementation, and others for the second phase.
To address the challenge of lack of availability of uniformly rich source content, we collated content from multiple sources – Pedigree India site, Amazon US & UK sites, Mars Petcare global sites, different marketing collateral, etc. – ensuring that content for all SKUs was equally rich.
In terms of creating suitable 'hooks' for different kinds of buyers, we wrote/structured content with a mix of rational & emotional appeal, incorporated search keywords into content, included specific images with 'cost per meal' for price-conscious buyers, and added feeding guidelines & conversion images for new buyers. We also worked towards achieving the objective of growing basket size by adding a 'product recommendation' image on each product display page.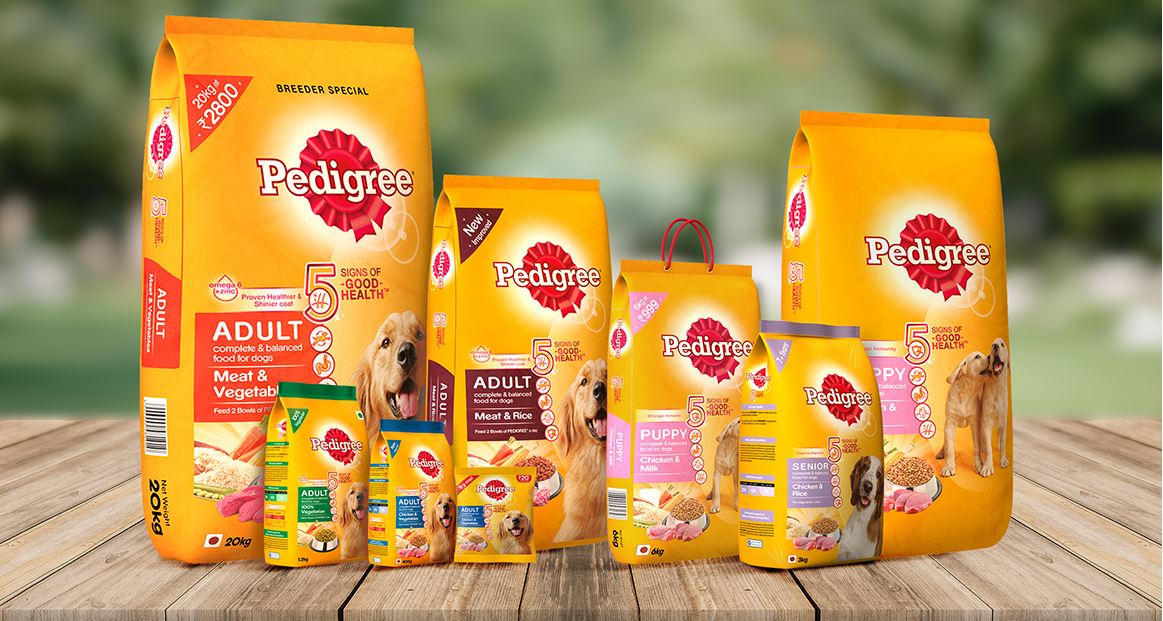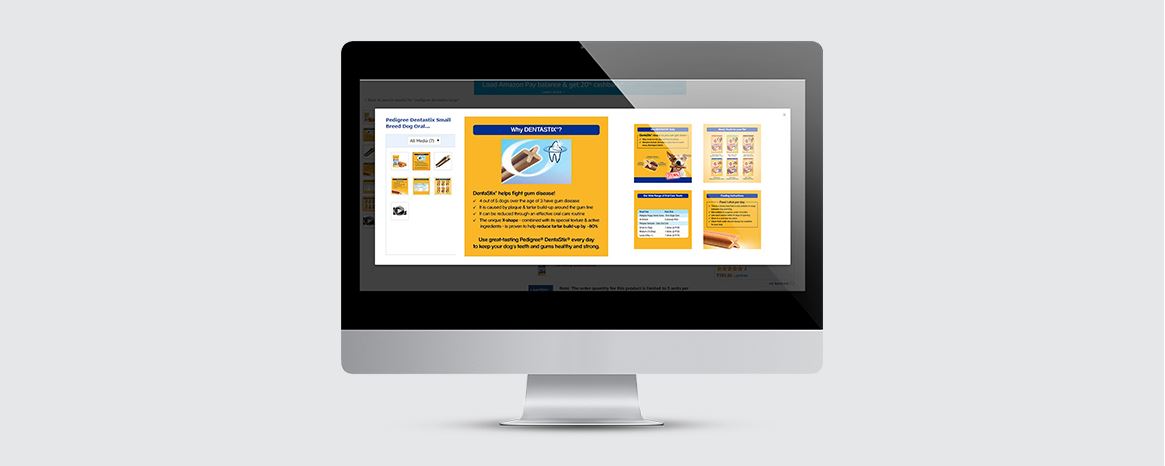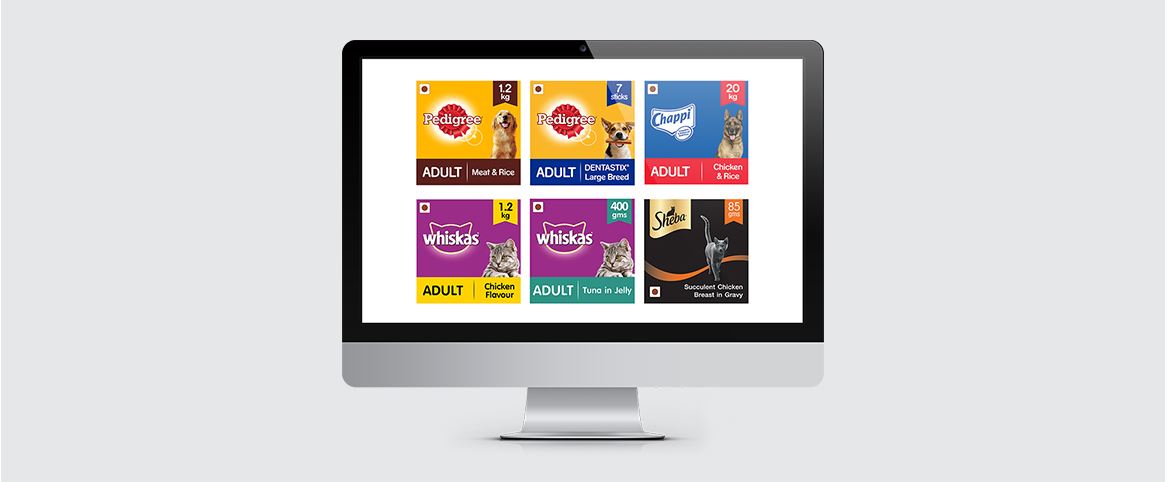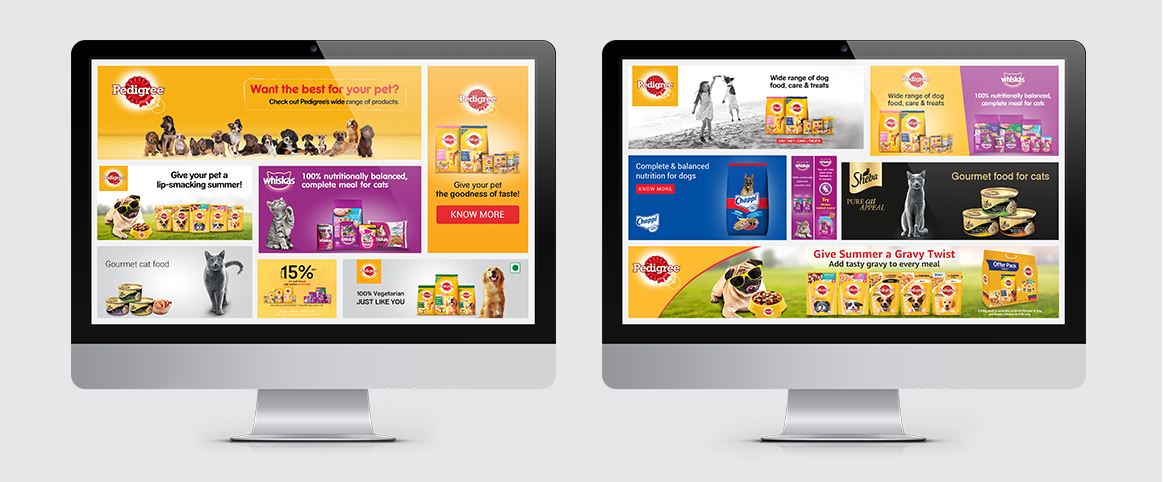 Results
Since our work on the visual merchandising went live, the client has enjoyed significant success on partner sites.

Engagement rate is the highest in its category, indicating that the creatives are appealing to online buyers
Product page views shot by 42% in the first month, and 300% in the second
Daily cart additions improved by 21% in the first month, and 314% in the second
Daily wish-list additions went up by 120% in the first month, and 361% in the second
Daily sales went up by up to 6.5X during specific campaigns
Testimonials
"The expertise White Cloud Brands has projected in digital marketing – building the e-commerce strategy for Mars Petcare – has given tremendous results in our business. Right from thought to designing to concept-building, the entire journey has been well thought through and brought alive. The White Cloud team is very focused when it comes to detailing and deliverables. Thank you, team White Cloud Brands."
Ecommerce Manager, Mars Petcare