Tips to connect with – and benefit from – an engaged audience in the digital age
When watch-maker Bulova ran the first-ever TV commercial on July 1, 1941, they spent anywhere between $4 and $9 (per varying accounts) for the 10-seconder. The ad played across 4,000 TV sets in New York, and, it can safely be said, was seen by every single person who had his TV on at the time.
74 years on, a lot has changed.
Advertisers are finding it increasingly tough to forecast audience response, plan advertising budgets and align sales & marketing initiatives accordingly. In the digital age, smart consumers can choose to see what they want, and as for what they don't want to see…there's always ad-blocker! Arris' Consumer Entertainment Index report stated that 60% of the audience from across 19 countries record shows purely to skip through the commercials. No wonder more and more viewers are subscribing to high-definition channels that offer an almost ad-free experience. The global subscription to HD TV service now exceeds 44% and is expected to reach 60% by 2020.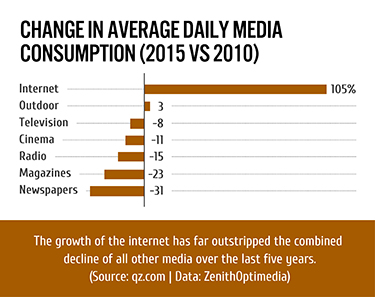 People are spending a lot more time with media, and consequently using many more ways to block/stop ads from reaching them. The 'bouncers of the digital space' – ad-block softwares/apps – are being downloaded by users in huge numbers. One amongst these is the renowned Adblock Plus, that allows only "acceptable" ads to find their way to its users. With over 300 million downloads, biggies of the online space (popular websites) are battling (and even paying) to get accepted on its "whitelist".
How else are marketers fighting for attention?
Once considered taboo, full-page newspaper cover ads are fast replacing those iconic front pages that were once the hallmark of the fourth estate. In the digital space, 100 MBPS connections have made video-viewing a breeze, but viewers now have to deal with unescapable video ads that precede the actual video. In the race to communicate advertising messages through every possible platform, the quality of content is fast getting compromised.
Audiences are quick to spot 'fake' conversations (such as watching two wives argue over their ability to take stains off their husband's shirt), but will happily watch an ad about a precocious 5-year old 'bashing up' a puddle of mud for dirtying his younger sister's clothes. After all, if 'daag acche hain' (Hindi for 'stains are good'), who are we to argue?
Realizing the need to build a timeless human connection in today's times, one company that has got its advertising right is OLX. Importantly, it also has a plan in place to graduate from humorous campaigns to more meaningful advertising over time – generating a stronger emotional connect with an audience that has already got sold on its quirky advertising.
Speaking of meaningful advertising, this wonderful piece of work doesn't introduce the viewer to the brand till the last 10 seconds of its 185-second running length. However, it more than makes up for its minimal 'logo exposure' by establishing the brand as genuinely warm, trustworthy and caring – attributes that can be a significant differentiator in its category (life insurance).
This trend in advertising – of crafting concept and content-driven messages that do not introduce the brand till the very end – is rapidly gaining audience favour (and much-sought likes). It fits in perfectly with changing dynamics (heavy mobile phone usage, 24×7 data-enabled smartphone access, rising commute times, increasing apathy towards traditional advertising) and also helps a brand connect more deeply with its audience.
The flavour of the season, AIB, which was 'roasted' for its content in the recent past has launched its advertising division, AIB Vigyapanti. Leveraging their existing fan following for their clients, AIB intends to build its clients' brands through the use of what else, but, humorous content. Their first ad for matchmaking app, Truly Madly, "might just have hit the sweet spot between getting their message across and not boring their audience" according to FirstPost.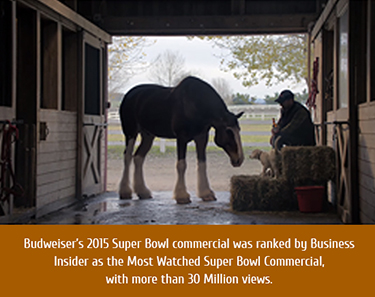 Clearly, content-driven ads that reward the patient viewer with some kind of 'takeaway' stand a far better chance of generating better bang for the marketing buck than traditional advertising. It is not that viewers hate ads per se. If it were so, then the Super Bowl ads being viewed on YouTube would not double from just over 2 million hours last year to 4 million hours this year. The problem lies in what is being offered to the viewer. As Larry Page said at Google's 2015 Annual Stockholders meeting, "the industry needs to get better at producing ads that are less annoying".
Like everything else, advertising too needs to adapt to survive. 'Never-before' offers and big ad budgets are not the answer to increased competition. Marketers must give the viewer a reason to notice and remember them. Offers will be forgotten, emotions will not.
Before you spend your money on pricey media platforms, ask yourself – is your ad capable of making a viewer want to spend his time on it?