How companies can choose the best 'face' for their brand
From the time Aamir Khan hit the screens with this ad, he has had brand owners eating out of his hands for his unique combination of acting talent, mass appeal and squeaky-clean reputation. Over the last 27 years, India has come to know – and love – the man as an actor, director, producer, humanitarian, and host of a life-changing (for many) television talk show, Satyamev Jayate, that garnered 1.5 billion overall impressions online.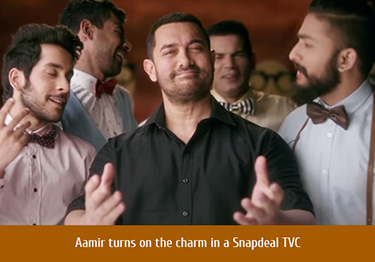 For years, the actor's credibility has been winning audiences for the brands he endorses – Coca-Cola, Godrej, Tata Sky, Titan, Samsung and others. Hardly over a month ago, the actor was at the forefront of e-seller Snapdeal's 'Diwali Dil Ki Deal-wali' campaign. In praise of their brand ambassador, Idi Srinivas Murthy (Sr. VP Marketing – Snapdeal) stated "Aamir Khan is a supremely versatile actor who can instantly connect with the audience". The well-planned, promoted & executed campaign fetched Snapdeal a whopping 5 million app downloads and more than 5 million orders, truly lighting up the e-tailer's Diwali!
However, a recent incident seems to have quickly wiped out (for some) the mammoth credibility he has enjoyed till date. His statements at the 8th edition of the Ramnath Goenka Excellence in Journalism Awards, triggered the debut of #AppWapsi and #BootOutSnapdeal on Twitter, dragging Snapdeal into a soup that it was never an ingredient of. Short on the heels of its recent Diwali success, Snapdeal was looking at more than 85,000 app uninstalls and downgrades in ratings – an outcome not entirely unexpected in an age where social media and mass media can often come together to create a monster when none exists. Be the outcry genuine or orchestrated, it has certainly impacted Snapdeal adversely in a year in which it was going for aggressive growth.
Snapdeal is definitely not the first brand to take a beating for the actions of its brand ambassador (ask Nike, Accenture, and a host of other brands that have suffered similarly).
This begs the question – is a brand ambassador really the best 'face' for a brand? How different would things have been for Snapdeal had it had a mascot instead of a brand ambassador? After all, the Amul girl, Ronald McDonald and the Energizer Bunny are celebrities in their own right!
Here are some tips to help you decide.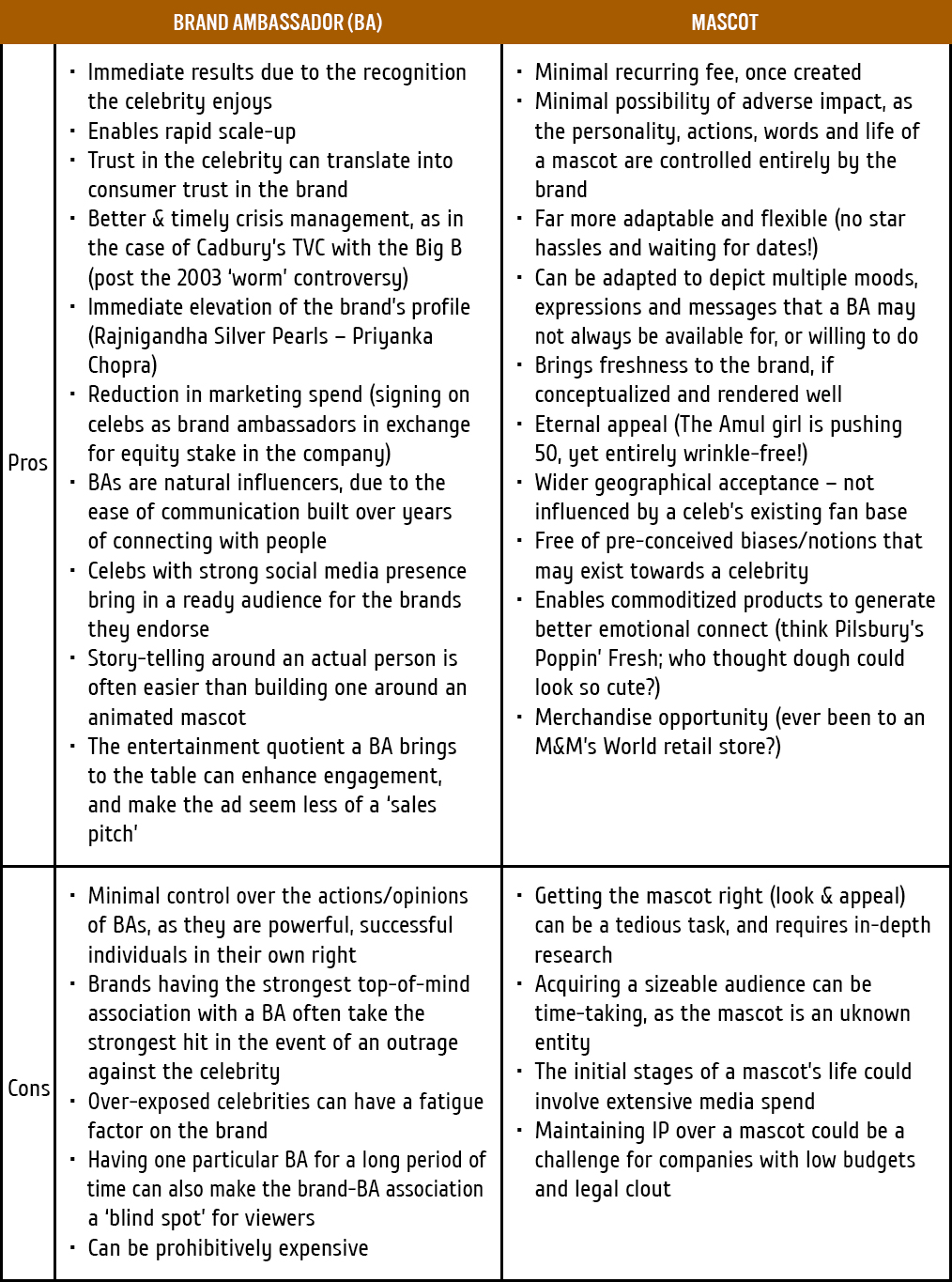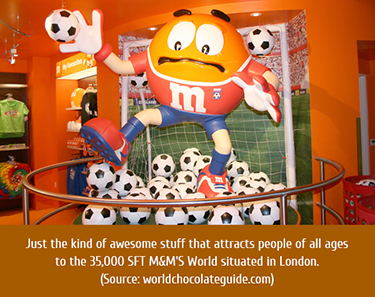 What's important to keep in mind is that, both, mascots and brand ambassadors may not always have the intended impact on the brand. Merely paying for the most desired celebrity or creating a top-of-the-game mascot does not guarantee results. The BA/mascot being chosen must be a natural fit for the brand's personality and products.
When deciding between the two, ask yourself and outline:
Your communication objective

Your business goals/targets (are you looking for quick short-term impact or long-term brand-building?)

Do you even need a mascot or a brand ambassador? Would regular advertising serve your needs better?

Your strategy to leverage the brand ambassador/mascot over the desired duration of his/its usage

The fall-back option, in case of a potential crisis (as 'response time' is of the essence at such times)
In closing, brands would do well to remember that mascots or brand ambassadors should be used to communicate the message; they should not be the message. Focus first and foremost on building a great product/service. Have all the essentials in place that make an organization great. Once that happens, customers will always have a stronger connect with your brand, than the celebrity or mascot who is its face. Let your company be known first for what it brings to the lives of your customers. Everything else will fall in place.